Requêtes de traduction
Travailler avec des corpus parallèles multilingues
Sketch Engine permet de se servir de textes bilingues ou multilingues, appelés "corpus parallèles", pour chercher un mot ou une expression et pour faire afficher leur traduction en contexte. Ces requêtes parallèles ont comme résultat une concordance parallèle.
Sketch Engine offre des corpus parallèles prêts à l'emploi dans plusieurs langues. Il est également possible de déposer ses propres textes et de créer ses propres corpus parallèles.
Pour afficher une liste de corpus parallèles disponibles, identifiez-vous et allez à CHOISIR CORPUS AVANCÉ. Pour afficher uniquement les corpus qui correspondent aux deux langues requises, merci d'utiliser les boutons de sélection A et B.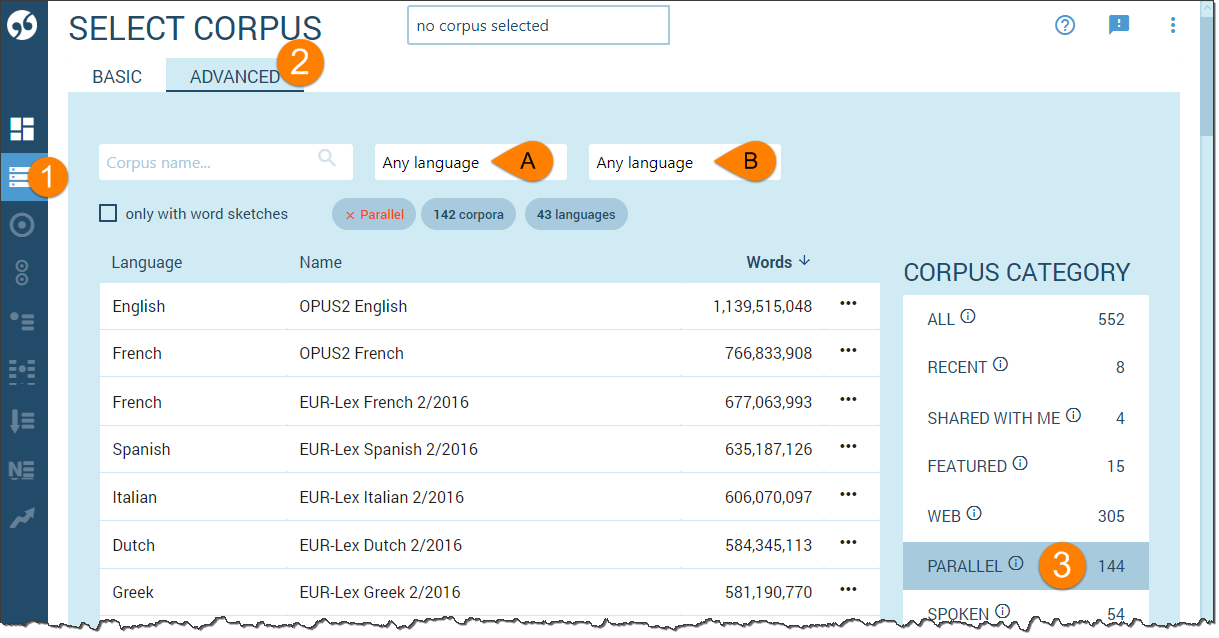 Chaque langue d'un corpus multilingue existe aussi comme corpus monolingue qui peut être analysé séparément.
Après avoir choisi le corpus, cliquez sur Concordance parallèle à partir du tableau de bord du corpus.

1
Ne doit pas être vide.
If you type the lemma (base form), the simple search on the basic tab will automatically search for all forms of the word. Typing go will find goes, going, gone, went
If you type one of the word forms, e.g. goes, it will only find that word from.
2
Sélection de la langue qui sera affichée à gauche.
3
La définition de critères pour la deuxième langue est facultative. Lorsqu'elle est utilisée, la traduction ne sera affichée que si elle contient le mot ou la phrase requis.
4
Langue dans laquelle les traductions doivent être affichées.
5
Un nombre illimité de langues peut être recherché en même temps. Une ligne de concordance ne sera affichée que si des données sont trouvées dans toutes les langues sélectionnées.
You can work with the result in the same way as you would with a monolingual concordance.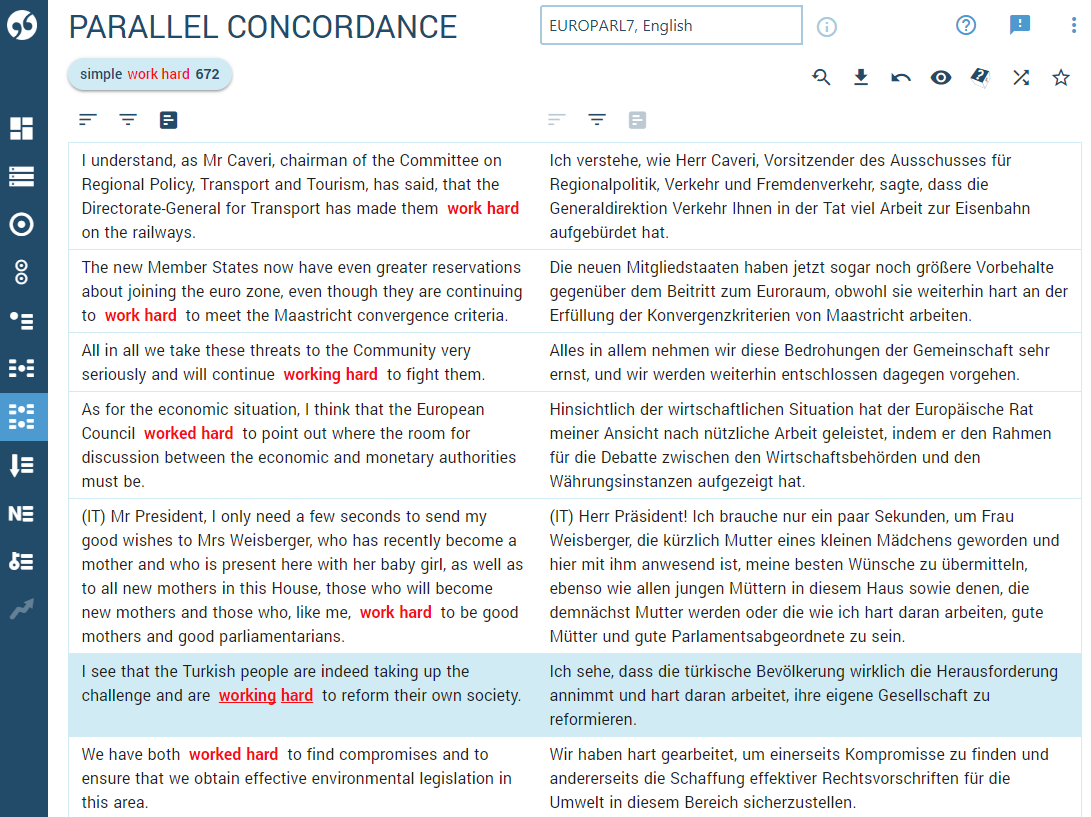 1
critères de recherche et nombre d'occurrences obtenues
2
modifier les critères de recherche
3
télécharger les résultats
5
modifier la façon dont vous voyez les données, les étiquettes d'affichage ou les structures
6
travailler avec un plus petit nombre de lignes sélectionnées au hasard
7
changer l'ordre des lignes au hasard pour que l l'écran affiche des lignes qui proviennent de différentes parties du corpus (par défaut, les lignes sont affichées dans l'ordre dans lequel elles se trouvent dans le corpus)
8
enregistrer le résultat dans votre favori pour y accéder facilement la prochaine fois
9
trier les lignes selon des critères simples ou complexes
10
filtre : supprime les lignes contenant ou pas certains mots ou phrases pour lesquels des critères simples et complexes sont disponibles
11
calculer les fréquences basées sur des critères simples ou complexes
12
le même ensemble d'outils est disponible pour chaque langue