Select a corpus
to work with
Any information Sketch Engine displays is calculated automatically from a corpus. A corpus has to be selected first. The last used corpus will be preselected after login.
The user can choose from 3 methods of selecting a corpus.
Quick corpus selector
The quick corpus selector is always visible in the centre at top of each screen. It always shows the name of the currently selected corpus, the one the user is working with.
To select a different corpus, type a few letters from the corpus name. You can use beginnings of some words in the name. Click the corpus name to select it.
Select corpus – Basic
The basic tab (2) of the select corpus screen lets the user select the language and Sketch Engine will pick the most useful general-purpose corpus automatically. This is useful if the user does is not familiar with the differences between corpora in the same language.
Click the button (3) or type the name of the language in the selector below (4).
Select corpus – Advanced
The advanced tab of the select corpus screen lets the user filter the available corpora by name, language and/or category. Type the language or corpus name in the search box.
Click the column headings to sort the corpora in ascending order, click again to reverse the order. Use the corpus local menu for quick access to deleting, sharing and configuring the corpus.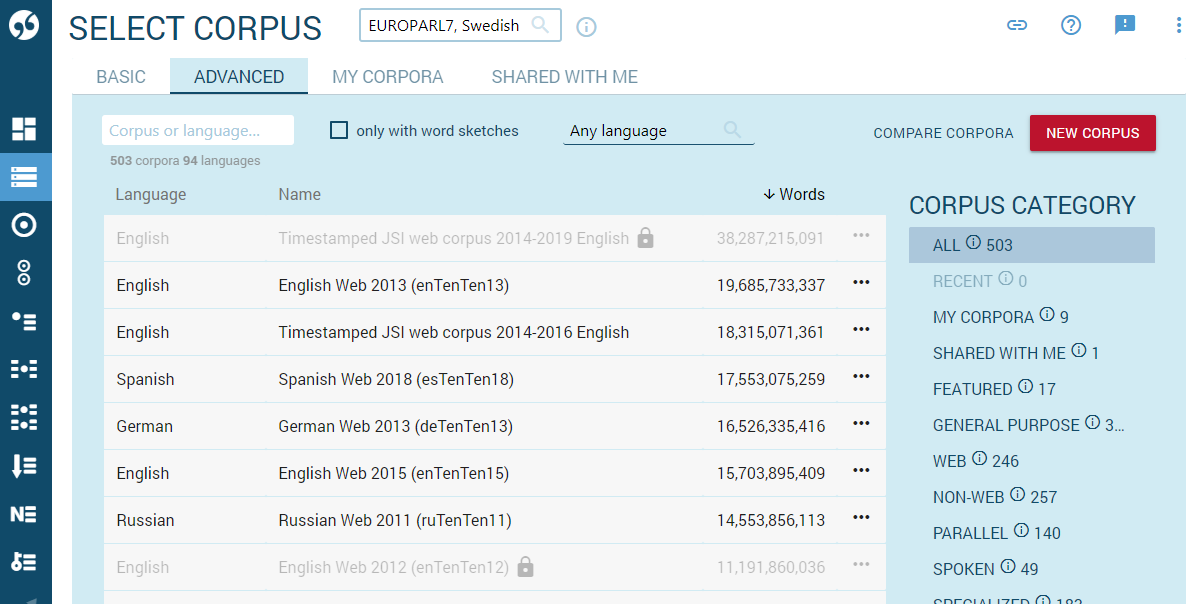 1
go to the SELECT CORPUS screen
2
the advanced tab lets the user filter the corpora by name, language and/or category
3
the MY CORPORA tab lists corpora built by the user
4
the SHARED WITH ME tab lists corpora of other users to which I have access
5
type the name of the language and/or corpus, use beginnings of words for longer names
6
only show corpora which have word sketches
7
filter by language only, not by name
8
click the column headings to sort in ascending order, click again to reverse the order
9
select a category to only see the matching corpora, a corpus can belong to several categories