New words in English
for media, publishers and content developers
New words in English is a service for publishers, lexicographers and content developers to help them develop interesting and engaging content for their readers or users. The service delivers information about new and trending words in English discovered in the latest time-annotated linguistic corpora.
This subscription service will deliver 5 new words  every 2 months with
example sentences
explanation
similar words
a visualisation of the word combinations (collocations)
links to the source data
The information can be shared and published by the subscriber.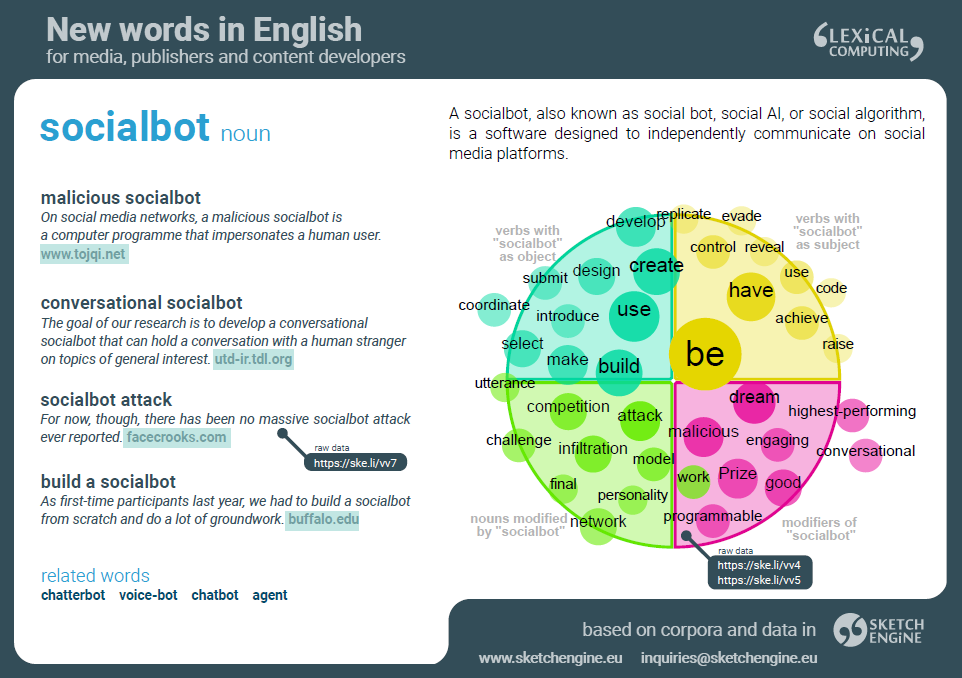 1
Definition or explanation
2
collocations (typcial word combinations) and example sentences
4
direct link to the data (corpus) in Sketch Engine leading to all sentences which the information was extracted
5
words that relate to the same topic (identified by the thesaurus tool in Sketch Engine)
6
visualisation of the collocations, their frequency, typicality and the grammatical relation
Prices and conditions
This is a subscription service. The subscribers will receive 5 pdfs every month with 5 new words in English and information about them. They are words, which are new in the language and whose frequencies of use have risen in the past few months and our algorithms were able to detect them. The inclusion of the words in this service does not imply that the words have already become part of the standard English lexicon. As is typical for any new words, some of them may stay in use but most  of them are likely to go out of use sooner or later.
subscription duration: 12 months
delivery content: 5 pdfs per month, format and content as demonstrated on this page
monthly delivery
attribution required

€ 290

per month
€ 3,480 per year

includes attribution discount
monthly delivery
no attribution

€ 490

per month
€ 5,880 per year

attribution is not required
one batch
no attribution

€ 990


per one delivery

attribution is not required
Attribution discount
The subscription with attribution discount requires the subscriber that any published content created from the delivered material should be attributed to Sketch Engine by mentioning Sketch Engine as the source of information or including the Sketch Engine logo in the publication. If the publication is electronic, the logo or the Sketch Engine name should include a link to the Sketch Engine website.
Inquiries
To order the New words service or ask questions about it, complete the contact form on the left or email inquiries@sketchengine.eu