If you are the local administrator of a site licence with a fixed number of site licence members then this is managed by a Sketch Engine Key (a character string) which we will have set up for you upon payment. The instructions for adding and managing user accounts are below. Note that if you have an site licence with an IP address range, users can also access Sketch Engine from within the IP range without needing to login.
Adding New Accounts
As local administrator you can login using the account details we sent you. On the left hand side you will see a Local Administration link. Click on this and on the main screen you will see a list of users for the site licence that you administer. (However if you are an administrator for more than one site licence then you will see a list of these sites to select from and upon selection you will then get the details of any given site.)
You will then see a screen where you can add new users.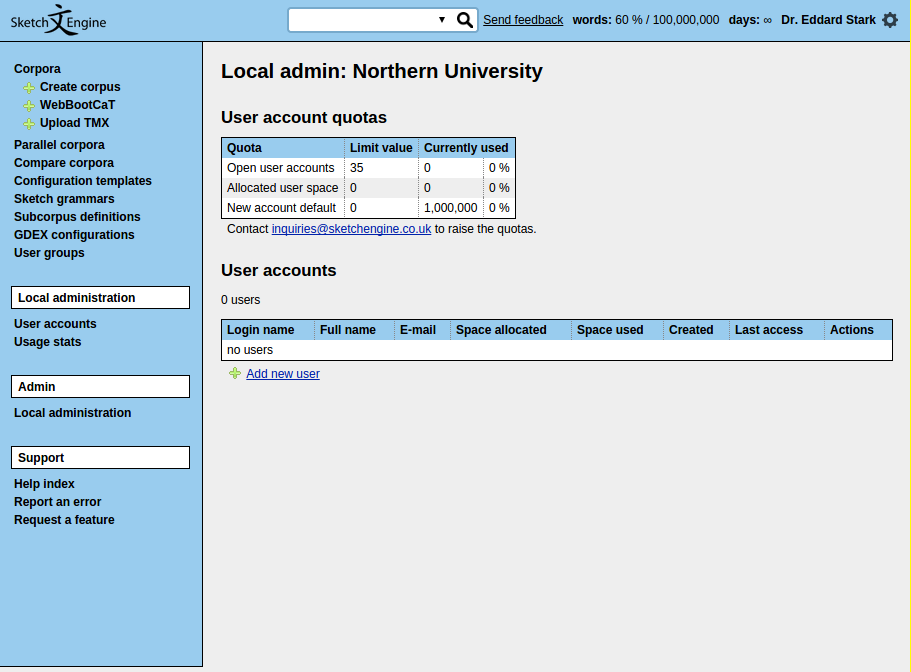 When you have added new users the screen will list those currently on the system: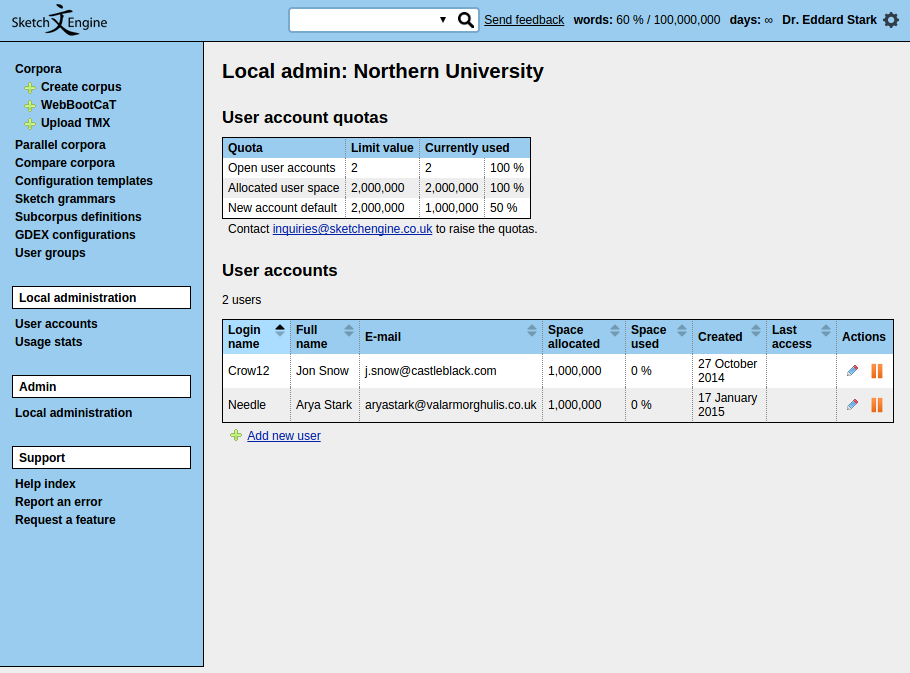 To delete a user click the red cross icon. This will free up one of your accounts under the site licence. If you wish instead to edit an existing account or pass it to another person with any associated corpora that this account had created, then click the pencil icon to edit and change the account details.
Alternatively, you can instruct the users to self-register. This will save you the work of entering all the details. Send the users the key that we have given you, the name of the site licence and these instructions

go to https://www.sketchengine.eu/,
opt to 'register'
At 'registration type' check 'site licence member',
enter a username
full name and e-mail address
'organization' they select the site licence name from the drop-down menu,
enter the key in the box below.
click on register and the password is automatically sent to the e-mail address entered.
If you exceed the fixed number of users for your site licence then you, as a local administrator, should delete the unwanted accounts or contact inquiries@sketchengine.eu to increase the number of accounts.