The Sketch Engine Trados Studio plugin brings the latest natural language processing (NLP) technology directly into the Trados Studio interface. The translator can easily get information about how a word or phrase is used by native speakers, which collocations it most typically combines with, what synonyms can be used instead and how it is usually translated. The information is based on an automated analysis of multi-billion word text corpora using the ultimate technology from Sketch Engine.
Supported languages and features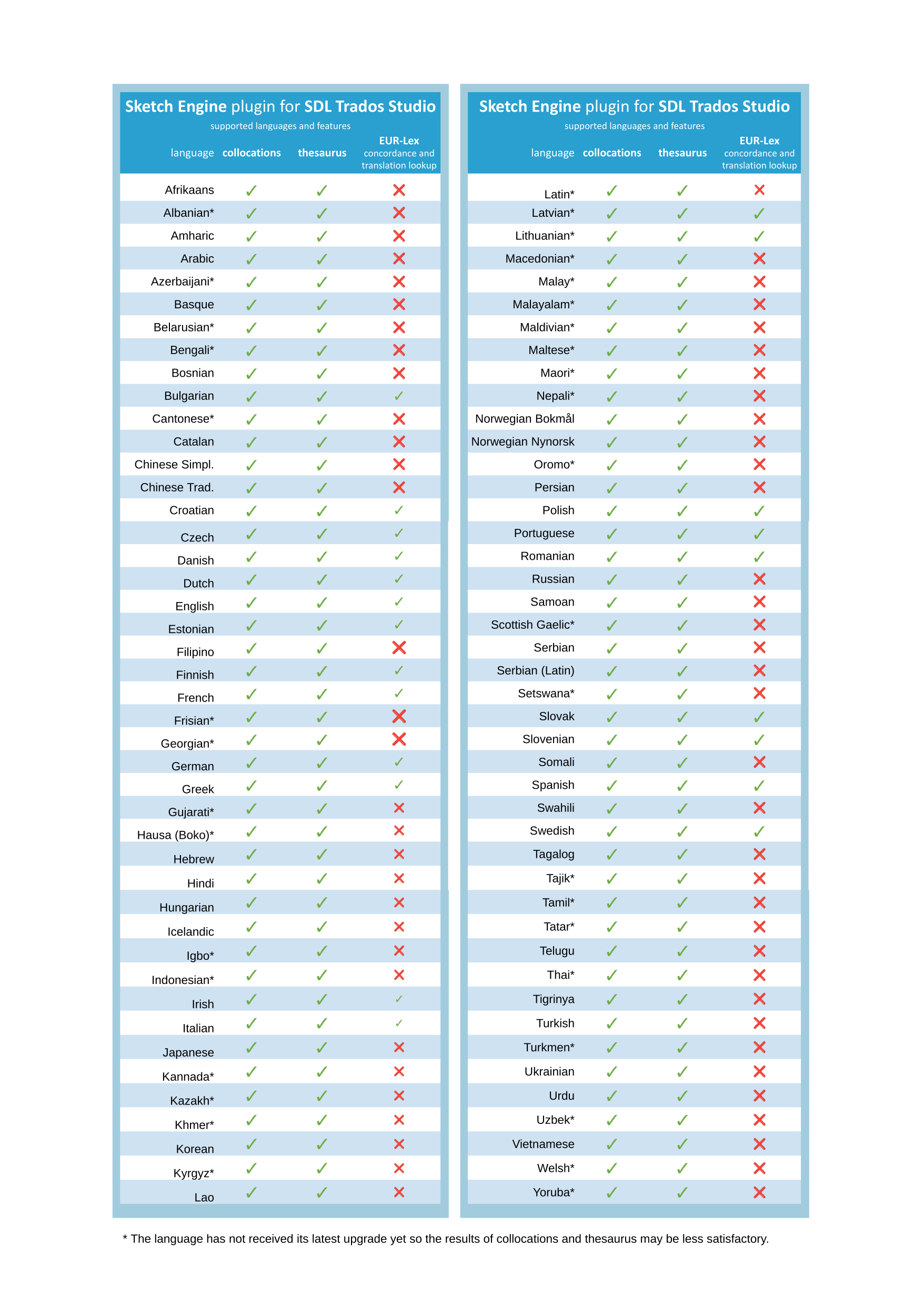 Sketch Engine supports many more languages via the web interface. See the list.
A Word Sketch for the highlighted word displays suggestions of the most typical word combinations as used by native speakers.
The thesaurus generates a list of alternatives for the selected word. The list contains synonyms, antonyms, similar words and word forms of the same topic area.
The concordance looks up examples of the word or phrase in a parallel text corpus and displays the matching translation.
Our next generation term extraction delivers exceptionally clean results, no manual cleaning required. It is already available through the web interface and will be added to the plugin soon.
To download and install the Sketch Engine Trados Studio plugin, visit the RWS AppStore.
After installation, close Trados Studio and open it again.
STEP 1
Sketch Engine account
I have a Sketch Engine subscription
(either the 30-day trial subscription or a paid subscription)
Proceed to STEP 2
I do not have a Sketch Engine subscription
If you do not have a Sketch Engine subscription, register for the 30-day trial or a paid subscription to get your API key.
proceed to STEP 2
In your Trados Studio, activate your Sketch Engine plugin to:
open a file (via Editor)
switch to the Advanced tab
click the Sketch Engine settings at the top right corner
insert Sketch Engine login details and click the Activate button
Your plugin is ready to communicate with Sketch Engine now. Highlight a word in your source or target text, right-click and select word sketch (collocations), parallel concordance or thesaurus.
Support
Our support team can be contacted via this form.